shore-delight
Shore Delight
https://www.visitfloridabeaches.com/rentals/properties/shore-delight/
Shore Delight - St. Joe Beach Florida Vacation Rental
Preferred Payment Discount: $45

Standard Turnover Day: Sunday

Bed Sizes: 1K, 2Q, 1DB, 1Tr
&nbsp
&nbsp
Shore Delight is a beautiful single family home located in a quiet residential neighborhood in St. Joe Beach. Inside the private, fenced in back yard you will find a private swimming pool, which can be heated in the cooler times for an extra fee. With large decks, stretching the width of the house, on both levels, enjoy gorgeous views of the Gulf of Mexico. This home is a great place to retreat to after a long day at the beach. Thoughtfully laid out, there is plenty of room to comfortably accommodate a few families. Enjoy an afternoon BBQ or flag football game on the well-manicured lawn. The fun that can be had here is endless!

Floor Plan: Ground level – covered, paved parking, outdoor shower, foyer and Bedroom 1 – daybed and trundle. 1st Level – Bedroom 2 – queen bed, TV, work desk and entrance onto a gulf view balcony; Full bath with double vanities and tub/shower combo; laundry closet with full size washer/dryer; Bedroom 3 – queen bed, TV and DVD/CD player; and Bedroom 4 – Master Bedroom with king bed, TV, full bath, gorgeous gulf views and entrance onto large gulf view deck. 2nd Level – Living level including a comfortable living room with a big screen TV and DVD, standard and twin sleeper sofa; dining area with great gulf views, kitchen, half bath and a second gulf view balcony with a table for outdoor dining.
Complimentary Deep Sea Fishing

Complimentary Horseback Rides

Satellite/Cable Television
Thank you for entering your review. The review will become available to the system shortly.
10
10
Overall Rating:
4.6
4.6
July 2018 Stay
Rating:
1
3
5
Review Date: 07/31/2018
We rented this house for the swimming pool as we had 8 kids in our group that were too small to swim in the ocean. We rented a beach house and this house for the pool in the evenings when we couldn't have them at the ocean. The last 3 of the 6 days we were there the pool was taken out of order. Maintenance shut it down and we didn't hear from the again or saw them attempting to fix. We had very disappointed kids the last half of our week. The house was pleasant and nice.
June 2018 Stay
Rating:
1
4
5
Review Date: 06/10/2018
House was very clean and enjoyable, the beach wasn't too far of a walk which was nice. We stayed for a full week and overall it was great, but the pool light never worked and nobody ever came to fix it and our tv and wifi went out on the 3rd day there and took 2 days to fix and we did NOT like the camera that Was facing the pool.
May 2018 Stay
Rating:
1
5
5
Review Date: 06/04/2018
I had called many places because my family has dogs...in the plural. And they range from large to small. Even places that had us in the past and knew we were great tenants, no longer wanted dogs. Pristine Properties helped me and found this great home for us. I was worried because of the stairs because I and the dogs were old, but they were carpeted with nice thick carpet that made going up and down easy. The house was well decorated. The sofa comfortable enough to use as a bed. The downstairs bedroom had a window unit. We got there when the first named storm of the year went right over us, and still everything was well. The residents of Port St. Joe say storms are "just rain" to them. The kitchen had plenty of pots and pans. We bought and left a great can opener. Needed more forks. Bring storage containers. Pool was about 5 foot deep, and about 10x20, but was big enough, and warm enough even in May. Sides of the pool in deep and shallow ends had seating built in, nice! Fenced yard great. Really enjoyed stay
Wonderful Place To Stay
Rating:
1
5
5
Review Date: 05/21/2018
The house was clean, spacious and exactly like the pictures show. The pool and patio areas are very nice. The location is convenient and quiet and it's only 1 block from the beach. Those with physical limitations should be mindful of the stairs. Otherwise, they are not a problem even though there are a lot of them. We had a wonderful time here and will visit this location again. We did encounter a few minor issues which we'll mention only in hopes that that owner will address them. First, the upstairs grill was beyond nasty. The grease catch was running over and the grill hadn't been cleaned in quite some time. Additionally, the owner never approved a work request to replace the pool light. The only other external light source in the pool area generated numerous mosquitos. Therefore, we were unable to utilize the pool at night. Lastly, there is no onsite pool skimmer. The pool man only came one time to clean the pool so we had to purchase a skimmer to clean the pool each morning and to clean the grass and rocks thrown into the pool by the grass mowers. Please note these items are minor in nature and should not deter anyone from staying here. It really was a nice house and we thoroughly enjoyed our stay. The credit for the beach gear is great. If you plan to go to the beach be sure to use it on the umbrella, chairs and wagon. We were easily able to transport everything in the wagon with minimal effort. Also, you're really missing out if you don't take advantage of the family fun pass. We enjoyed several activities, but the horseback ride was especially fun. We hated to leave and are looking forward to visiting this location again.
great house!
Rating:
1
5
5
Review Date: 05/14/2018
We loved staying at Shore Delight! The back yard was fabulous and so was the pool. Our dogs loved it too! We especially enjoyed the two decks. Pristine Properties is great to work with. They kept us informed before and during our stay. We especially appreciated the lady that came and let us back in the house after we got locked out on the balcony. The views are great! We will definitely come back here.
December 2017 Stay
Rating:
1
4
5
Review Date: 01/01/2018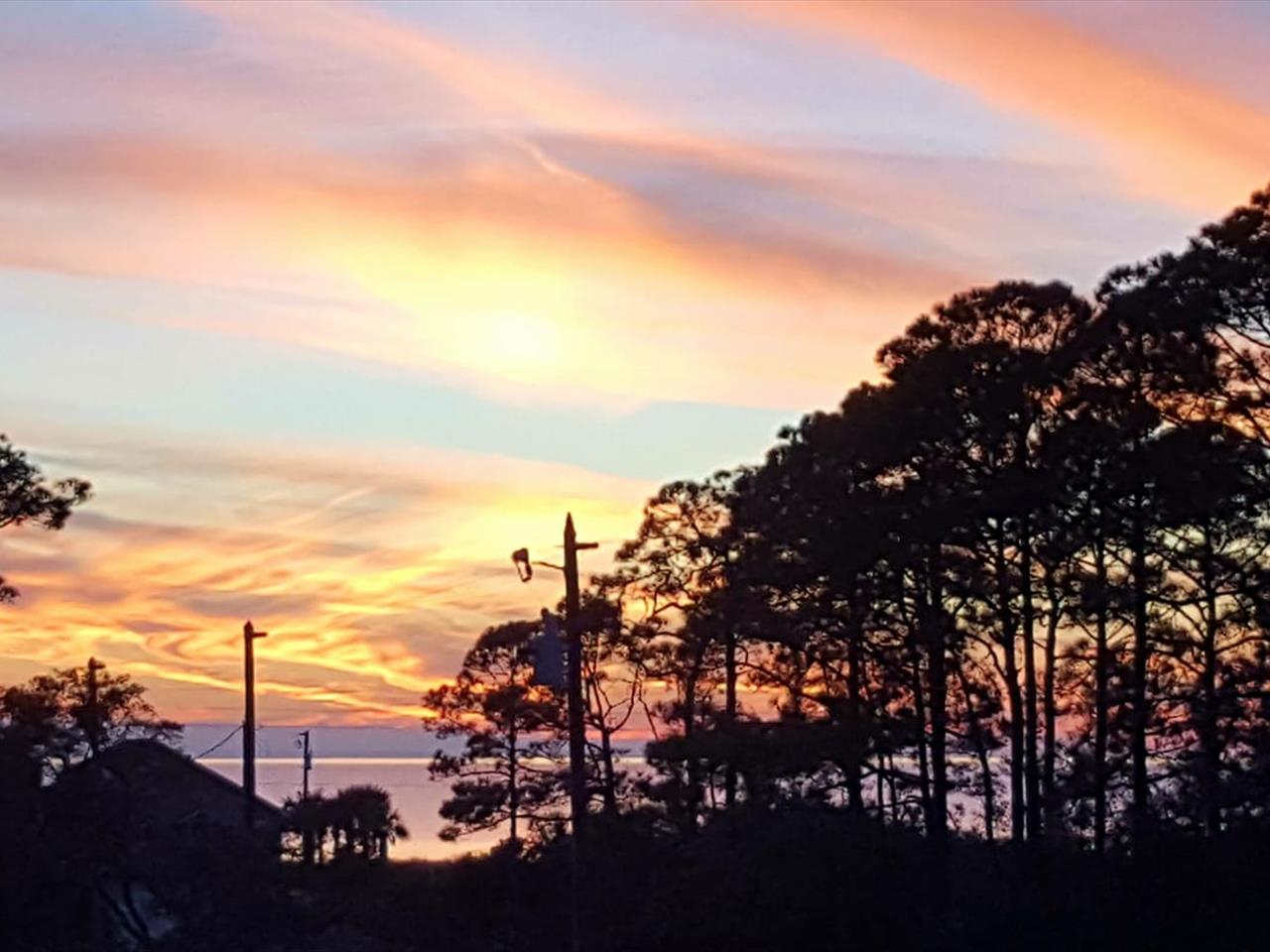 This year we decided to take a beach trip for Christmas instead of getting a lot of "stuff". It was a fabulous idea! The house overall was great. We loved the location. It was so close to the beach and we had a great view. The layout was great, as well. Port St. Joe was quiet. We love that it is so dog-friendly. Dealing with Pristine Properties was great. They were very accommodating. They have a handy app and kept us informed before, during, and after our stay. I loved working with them. The house itself was cute and a great property. There bedrooms were perfect for our needs. The backyard was amazing. We loved it ans so did our dogs!
November Stay
Rating:
1
5
5
Review Date: 11/15/2017
Loved this house! Very clean, beautifully decorated, close to the beach, great pool and backyard. Only 2 complaints, not enough hot water, and fence had holes that we had to cover with the lawn furniture so our puppy wouldn't sneak through. Also, the outdoor camera was little intimidating, but with the pool we understand it might be necessary. It was very cold when we were there, but still had a great time and loved exploring the area. So many beautiful areas. The perfect place for R and R which was why we were there. Would definitely go back and would definitely recommend this house. Stores were close by and not many restaurants open in the off season, so you will need to cook if you go in the winter months. Management co. was great if you needed anything!
October 2017 Stay
Rating:
1
5
5
Review Date: 10/15/2017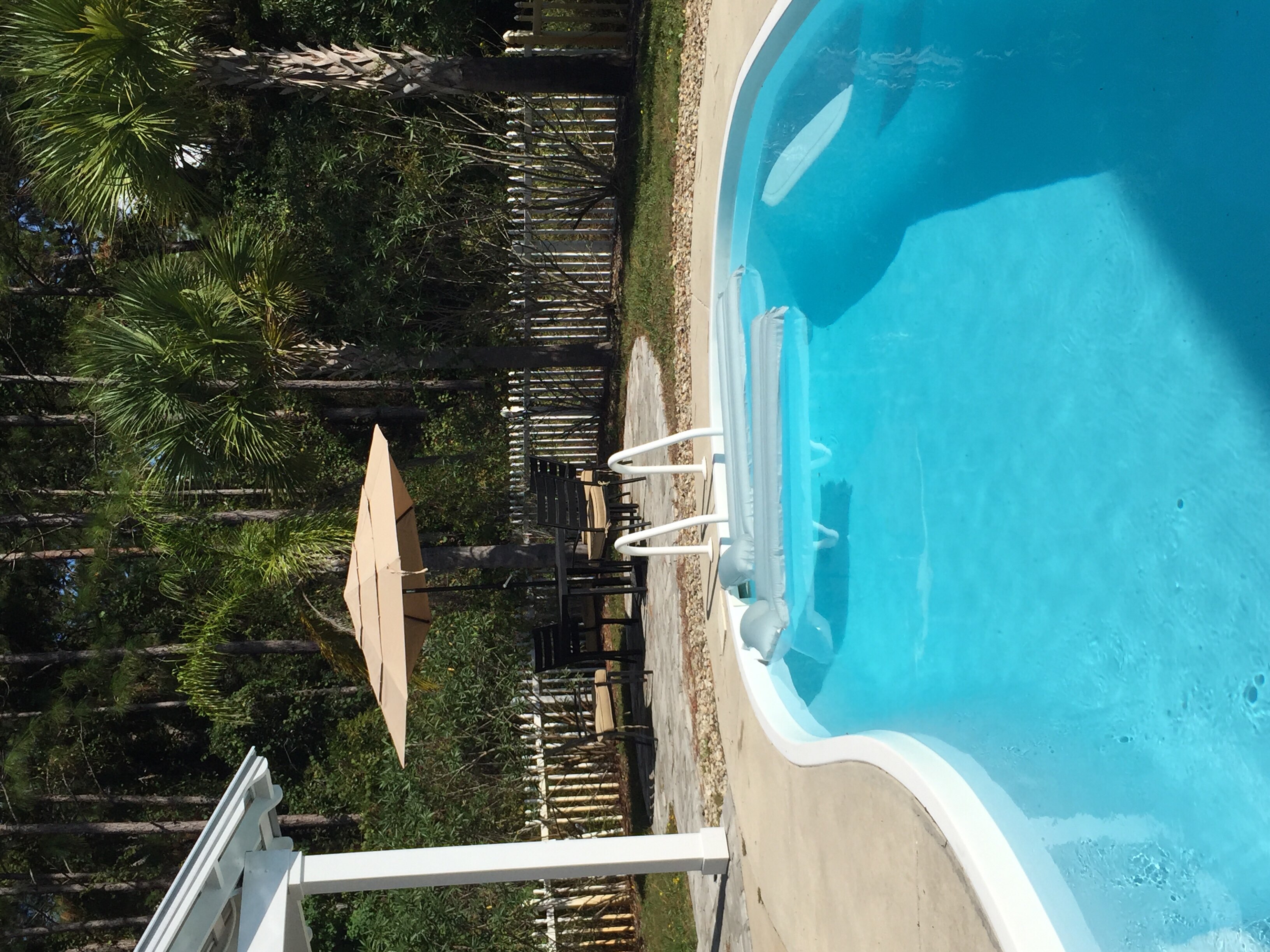 Excellent home in a quiet area with a couple of negatives. The pool was a major positive......the steps in the house....not so much, but the rest made it worth it! As a previous reviewer stated, it would have been great to turn on the pool light at night for swimming. We never found where the switch was. One issue we had was a camera in one bedroom that was pointed in the room and not to the exterior. Not sure if it is active but not knowing was a negative. A camera in an occupied bedroom with no prior notification or explanation was not acceptable. I personally find it inappropriate. Another issue was a non working toilet in the hall bath shared by 3 bedrooms. We reported it first thing Monday and we were told it would be submitted. I called again Tuesday only to find it had not been submitted. Once actually reported it was not fixed until after 7 PM that night......after our other guests had arrived. Showers were a challenge...again as said by another guest review, hot water lasted less than 3-4 minutes
Property Manager Response:
Exterior security cameras or cameras on the interior pointing to the exterior are not common but are used for security purposes only by the individual property owner. In this particular case there is a camera located in a bedroom window but it is used and pointed to the exterior to view the driveway/backyard entrance. Cameras viewing the interior is not standard practice nor something we would allow in any of our rentals. Our guest's privacy is very important to us at all times.
April 2017 Stay
Rating:
1
5
5
Review Date: 04/09/2017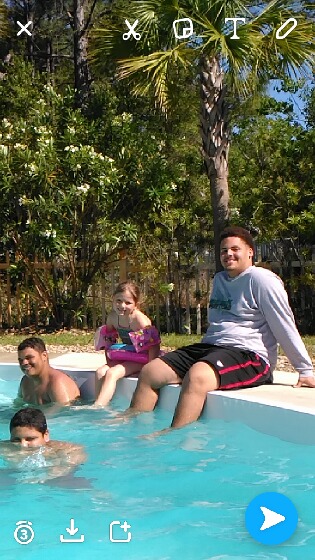 We took our family spring break trip to Port St Joe and it was amazing!! Everything was exactly as pictured and stated by Pristine. Honestly the pictures didn't do it justice!! Having the pool that could be heated was definitely a plus when the weather was a little rougher/cooler at the ocean for the kids. Shore Delight had plenty of room to accommodate all of us plus some. Kids plus adults had a blast and didn't even argue.
Shore Delight
Rating:
1
5
5
Review Date: 03/08/2017
Nice house with pretty view and was a only a short walk to the beach. The house was equipped with everything we needed including gas, charcoal, and electric grills. The location of the house is perfect as it was a short distance to either Mexico Beach or Port St. Joe. We appreciated the fact that it was a pet friendly house as well. We will be renting this property again.
Your request has been sent. We look forward to meeting all your vacation needs!
Pristine Properties Vacation Rentals Cape San Blas
4693 Cape San Blas Road
Port St. Joe FL 32456
Local: 850-227-1100
Pristine Properties Vacation Rentals Mexico Beach
1200 Hwy 98
Mexico Beach FL 32456
Local: 850-648-1100