A Swell Life
---
---
Address:

149 Boardwalk Avenue

Location:

Cape San Blas

Type:

House
---
---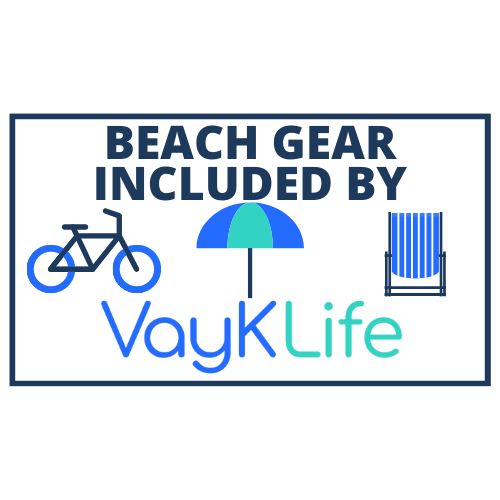 Get a $35 per day credit towards beach gear on this property for reservations of 3 nights up to 21 nights.
Click Here To Learn More!
Living the Swell Life is what we all hope to achieve. Nothing gets you closer to achieving that level of happiness than a beach vacation with family and friends. Cape San Blas is an ideal destination for sand, sun, and fun. On the southern end of the peninsula is a beachfront neighborhood, The Boardwalk. A quiet neighborhood featuring a beachfront community pool with winding boardwalks and lots of deck space. The beach located just beyond the pool is a wide beach with plenty of space to spread out, and an area for the kids to play. It is also a pet-friendly beach and welcomes to leashed dogs. Swell Life is a pet-friendly property as well, so no need to leave the family pet at home.

This 3 bedroom, 2 bath single-family home is a comfortable spot to call home base. Located just a short walk from the beach, you also have views of St. Joseph bay in the opposite direction. There is a great open deck on the front of the house with a dining table and umbrella. Under the house, there is covered parking with a fish cleaning area and an enclosed outdoor shower. Once inside the property, the living area is an open space on the first floor with sliding glass doors and windows allowing natural sunlight to pour in. There are also two bedrooms on the first floor with a master suite on the top floor.

Swell Life is not only tucked in between the gulf and the bay but is also located very close to Salinas Park Bayside where adventure awaits. Gorgeous boardwalk trails are winding along the water's edge of St. Joseph Bay. The children will enjoy the excitement of the playground and so much fun for the rest of your group too with pickleball courts, a sand volleyball court, a fire pit, restrooms & showers, and a kayak launch at the end of the boardwalk. With the loggerhead bike trail stretching the length of the peninsula, you can easily jump on just beyond The Boardwalk neighborhood and ride your bikes to the park or the Scallop Republic, a local pub with craft beers and live music.

How about that for a Swell Life?

**Pet friendly, max quantity and type required; additional fees apply**

*We LOVE Snowbirds! Low Monthly Winter Rates* Snowbird Season runs November thru February, on a monthly basis. To prepare a qualified quote, select your arrival and departure dates (must follow the property's turnover day, if applicable). Alternate dates must be pre-approved. Please contact us with your questions or to further assist!
---
November 2023
| Su | Mo | Tu | We | Th | Fr | Sa |
| --- | --- | --- | --- | --- | --- | --- |
| | | | 1 | 2 | 3 | 4 |
| 5 | 6 | 7 | 8 | 9 | 10 | 11 |
| 12 | 13 | 14 | 15 | 16 | 17 | 18 |
| 19 | 20 | 21 | 22 | 23 | 24 | 25 |
| 26 | 27 | 28 | 29 | 30 | | |
December 2023
| Su | Mo | Tu | We | Th | Fr | Sa |
| --- | --- | --- | --- | --- | --- | --- |
| | | | | | 1 | 2 |
| 3 | 4 | 5 | 6 | 7 | 8 | 9 |
| 10 | 11 | 12 | 13 | 14 | 15 | 16 |
| 17 | 18 | 19 | 20 | 21 | 22 | 23 |
| 24 | 25 | 26 | 27 | 28 | 29 | 30 |
| 31 | | | | | | |
January 2024
| Su | Mo | Tu | We | Th | Fr | Sa |
| --- | --- | --- | --- | --- | --- | --- |
| | 1 | 2 | 3 | 4 | 5 | 6 |
| 7 | 8 | 9 | 10 | 11 | 12 | 13 |
| 14 | 15 | 16 | 17 | 18 | 19 | 20 |
| 21 | 22 | 23 | 24 | 25 | 26 | 27 |
| 28 | 29 | 30 | 31 | | | |
February 2024
| Su | Mo | Tu | We | Th | Fr | Sa |
| --- | --- | --- | --- | --- | --- | --- |
| | | | | 1 | 2 | 3 |
| 4 | 5 | 6 | 7 | 8 | 9 | 10 |
| 11 | 12 | 13 | 14 | 15 | 16 | 17 |
| 18 | 19 | 20 | 21 | 22 | 23 | 24 |
| 25 | 26 | 27 | 28 | 29 | | |
March 2024
| Su | Mo | Tu | We | Th | Fr | Sa |
| --- | --- | --- | --- | --- | --- | --- |
| | | | | | 1 | 2 |
| 3 | 4 | 5 | 6 | 7 | 8 | 9 |
| 10 | 11 | 12 | 13 | 14 | 15 | 16 |
| 17 | 18 | 19 | 20 | 21 | 22 | 23 |
| 24 | 25 | 26 | 27 | 28 | 29 | 30 |
| 31 | | | | | | |
April 2024
| Su | Mo | Tu | We | Th | Fr | Sa |
| --- | --- | --- | --- | --- | --- | --- |
| | 1 | 2 | 3 | 4 | 5 | 6 |
| 7 | 8 | 9 | 10 | 11 | 12 | 13 |
| 14 | 15 | 16 | 17 | 18 | 19 | 20 |
| 21 | 22 | 23 | 24 | 25 | 26 | 27 |
| 28 | 29 | 30 | | | | |
May 2024
| Su | Mo | Tu | We | Th | Fr | Sa |
| --- | --- | --- | --- | --- | --- | --- |
| | | | 1 | 2 | 3 | 4 |
| 5 | 6 | 7 | 8 | 9 | 10 | 11 |
| 12 | 13 | 14 | 15 | 16 | 17 | 18 |
| 19 | 20 | 21 | 22 | 23 | 24 | 25 |
| 26 | 27 | 28 | 29 | 30 | 31 | |
June 2024
| Su | Mo | Tu | We | Th | Fr | Sa |
| --- | --- | --- | --- | --- | --- | --- |
| | | | | | | 1 |
| 2 | 3 | 4 | 5 | 6 | 7 | 8 |
| 9 | 10 | 11 | 12 | 13 | 14 | 15 |
| 16 | 17 | 18 | 19 | 20 | 21 | 22 |
| 23 | 24 | 25 | 26 | 27 | 28 | 29 |
| 30 | | | | | | |
July 2024
| Su | Mo | Tu | We | Th | Fr | Sa |
| --- | --- | --- | --- | --- | --- | --- |
| | 1 | 2 | 3 | 4 | 5 | 6 |
| 7 | 8 | 9 | 10 | 11 | 12 | 13 |
| 14 | 15 | 16 | 17 | 18 | 19 | 20 |
| 21 | 22 | 23 | 24 | 25 | 26 | 27 |
| 28 | 29 | 30 | 31 | | | |
August 2024
| Su | Mo | Tu | We | Th | Fr | Sa |
| --- | --- | --- | --- | --- | --- | --- |
| | | | | 1 | 2 | 3 |
| 4 | 5 | 6 | 7 | 8 | 9 | 10 |
| 11 | 12 | 13 | 14 | 15 | 16 | 17 |
| 18 | 19 | 20 | 21 | 22 | 23 | 24 |
| 25 | 26 | 27 | 28 | 29 | 30 | 31 |
September 2024
| Su | Mo | Tu | We | Th | Fr | Sa |
| --- | --- | --- | --- | --- | --- | --- |
| 1 | 2 | 3 | 4 | 5 | 6 | 7 |
| 8 | 9 | 10 | 11 | 12 | 13 | 14 |
| 15 | 16 | 17 | 18 | 19 | 20 | 21 |
| 22 | 23 | 24 | 25 | 26 | 27 | 28 |
| 29 | 30 | | | | | |
October 2024
| Su | Mo | Tu | We | Th | Fr | Sa |
| --- | --- | --- | --- | --- | --- | --- |
| | | 1 | 2 | 3 | 4 | 5 |
| 6 | 7 | 8 | 9 | 10 | 11 | 12 |
| 13 | 14 | 15 | 16 | 17 | 18 | 19 |
| 20 | 21 | 22 | 23 | 24 | 25 | 26 |
| 27 | 28 | 29 | 30 | 31 | | |
---
Bedroom 1
Sleeps: 2
2 Twin
Bedroom 2
Sleeps: 2
1 Queen
Bedroom 3
Sleeps: 2
1 King
Attached Bathroom
---
Experience
Adventure

Bay

Beach

Boating

Child Friendly

Children Welcome

Eco Tourism

Family

Romantic

Rural

Rustic
Kitchen
Coffee Maker - Standard

Cookware

Crock Pot

Dishes/Utensils

Dishwasher

Fully Equipped Kitchen

Ice Maker

Microwave

Oven

Refrigerator

Toaster
Nearby Activities
Beach Combing

Bird Watching

Cycling

DeepSea Fishing

Diving

Fishing

Golf

Hiking

Horseback Riding

Kayaking

Pickle Ball

Sailing

Scenic Drives

Shelling

Snorkeling

Surfing

Swimming

Tennis

Walking

Wildlife Viewing

Wind Surfing
Nearby Attractions
Cape San Blas Lighthouse

Constitution Convention Museum State Park

Marina

Restaurants

Shopping

St. Vincent National Wildlife Refuge

T.H. Stone Memorial St. Joseph Peninsula State Park
Property Features
Air Conditioning

Bathtub

Clothes Hangers

Community Hot Tub

Community Pool

Covered Parking

Deck - Open

Deck Furniture

Designated Parking

Dryer

Dune Walk Over

Fire Extinguisher

Fish Cleaning Area

Grill - Charcoal

Heating

Hot Water

Internet Access

Iron & Ironing Board

Linens Provided

Outdoor Furniture

Outdoor Shower

Parking

Satellite or Cable

Smoke Detector

Television

Washer

Wireless Internet
Property Policies
Accepts Snowbirds

Allows Group Events*

Minimum Age For Renters

No Landline Phone

Pet Friendly with Fee

Pets Considered with Fee

Wedding
---
The house was perfect for our stay! Had everything we needed and enough space for the six of us (4 adults and 2 teens).
We had a perfect Spring Break vacation! The house was great, beds were comfy, nice new towels and a great porch! Everything was clean and the layout was great! We loved the outdoor shower too!! Easy walk to the beautiful beach and pool! We can't wait to come back, we had never been to the area and we fell in love with it! Great restaurants nearby and wonderful shops in Port St. Joe! We brought our pup and we loved that there was a gate on the deck to keep them safe. We rented bikes, beach chairs and a wagon. We rode our bikes to play pickle ball everyday and to check out the nature boardwalk, which is gorgeous! You won't regret renting this vacation home!!
Fabulous first visit! We will definitely be back!
VayK Gear was an awesome addition to our stay. Our bikes, chairs, and umbrella were waiting for us when we arrived. Everything was perfect.
I enjoyed walking to the beach Quiet friendly neighborhood a bit run down…
House was as advertised. We found the house to be nice and clean, beach was awesome, was a perfect weekend.
I rated the value as 4 stars only because I did not pay the price it now rents for since I booked before the home was sold. If I paid the current booking price I would have rated it lower. There are things we had issues with in the home. A couple of them were the washing machine that would not spin out clothes but instead would run for several cycles until we finally gave up and had to line dry our clothes enough to then put them in the dryer. Another thing was the kitchen faucet handle is broken off and makes it more difficult to use. The kitchen is not well equipped. There are a lot of certain items but then it is missing important items. We did appreciate that someone from Pristine brought over the 11x13 pan and mixing bowls so we did not have to go buy some. That was nice. It is also frustrating that neither sliding door works. One other suggestion for Pristine is to make sure to include the keycode for the laundry/storage area down below because that was not provided to us so we could not access that area until someone brought dishes to us and then she helped figure out the code to give to us. That was frustrating not having that code to begin with because we couldn't locate the laundry.
With some improvements this can be a great rental property.
We are so grateful that our furry family gets to come and be with us:) Thanks for the wonderful opportunity to let us stay there.
Great location and having the pool so close to the beach was awesome. Little things like a fresh coat of paint would make a huge difference to update it.
Thanks for your feedback. This property was just purchased prior to your stay so I believe the new owner has plans for it but is just working on scheduling things for open dates (there aren't many currently).

Posted: 4/8/2022
Great house and location! Amazing for families with children and a dog! House has everything you need. Also location was very private with great beach access!
What a great location. Easy and quick walk to the beach. Close to Port St Joe, but still quiet. The home itself was nice, clean and comfortable. We really loved the area as well.
We started a new tradition of getting away for Thanksgiving and Angel Fish Cove did not disappoint. Plenty of space, clean, short walk to the beach, it was wonderful and we will come back!
Great location with easy access to the beach. A great pool area. We really liked having a room to put all of our beach and fishing stuff in by the driveway. The open floorplan is really nice with plenty of seating at the bar and table.
My family and I enjoyed our long weekend stay at Angel Fish Cove. The neighborhood was nice, quiet, and friendly. The boardwalk and community pool was a great amenity to have access to. The house was clean and well appointed with plenty of space for our family. The hosts were easy to communicate with. Overall, I would recommend this rental property! We had a great time!
Had a great travel experience.
This was a lovely property with just a short walk to the beautiful beach. The pool in the neighborhood was nice too. The deck was awesome and comfortable to sit out on. All the furniture was comfortable including the beds. Nice quiet street with easy access to Port St Joe and State Park at the end of the cape. We enjoyed our stay. The house is well equipped with most items you'll need to enjoy your stay.
Our stay at Angel Fish Cove was absolutely perfect! The property had everything we needed and more. We can't wait to book our stay for next year!
We had a wonderful relaxing time. The house was spacious and comfortable. The owners are wonderful and accommodating. We will be back!
It was a great stay. Perfect communication and perfect area
Our first VRBO and the owners made it so easy. Will definitely stay with them again The place was amazing and our pups loved it. Definitely recommend
The owners were great. Stay was comfortable and clean. Has a very nice week. Thanks, Gene.
Enjoyed our time with family in Cape San Blas. Stayed at Angel Fish Cove. Everything was great. Thanks Gene for making it an enjoyable stay.
The house was perfect for our family. We hope to come back again!
We'll stocked kitchen, comfortable beds and nice A/C.
Really enjoyed saying on the Cape . Very laidback atmosphere . Definitely will return .
This property is in a great location within easy walking distance to beach and pool. Pool was newly renovated and very nice. Beach is of course awesome…not crowded and nice. The bay is always fun for kayaking and fishing especially from the state park or kayak put-in just down the road. Park for kids was new and just down the street. Property is well kept and owner communicated well. Dryer being downstairs was both a blessing (easy return from beach) and a curse (have to go outside and back in to fetch laundry). Handmade gift was a nice touch and appreciated!
Wonderful place to stay. Walking distance to the beach with great neighborhood boardwalk. Beautiful neighborhood pool. Met two of the neighbors who were so nice to talk with during our walk. Comfortable bed with extra throws provided for our dog. Only recommendations are new coffee pot and air filters changed. Will definitely consider staying again!
Property was beautiful- rain everyday made it hard to spend time at the beach. Community pool was great for the kids
Gene was a generous host and sent helpful emails that made our arrival easy. The home was beautiful and very clean with everything we needed. We got plenty of exercise with the stairs as we have with most houses we've stayed in on the Cape. The walk to the beach view was not bad. We were happy there was a boardwalk to get us to the beach. Angel Fish Cove was a lovely comfortable home. I would love to stay again.
Magnificent home ,we truly enjoyed our stay. Gene was very pleasant to meet . The house was close to the beach and easily accessible walking on boardwalk to ocean about 1/4 mile from house. Any closer and we would have been right on beach! Delightful beach sand and seashells near the waves crashing into the beach. Beach was really secluded on our stay for the month of February. We practically had the beach to ourselves most of the time. We will return if we get the opportunity. The Kingsize bed in master bedroom was very comfortable and Internet was great while we were there.
Excellent peaceful vacation
This property was excellent in every way! It was way more than the description! The owners made this so easy and even left us a handmade gift! You can't go wrong with this home and the RS only a few minutes walk to a beautiful beach! Thank you for an awesome vacation!
Had a great time. Property was great, had one minor hicup with conflicting check in door code info but figured it out. Would stay again any time. Also recommend Indian Pass Raw bar, great food and super close.
Weather did not cooperate, swimming pool was not warm. All in all we enjoyed our stay. Place was very comfortable, and close to other beaches and towns.
We loved our stay and the house was just perfect in every way. Four teens and our dog and had plenty of space. Clean. Comfy bed. Great bathrooms. And loved the stone counters! We'll be back! ps. We love the down to earth feel of the cape and the area in general. It's old school with great locals.
We had a great stay at this house. We spent hours walking with our dog on the beach and enjoyed coming back to this nicely-equipped house. We enjoyed being at the "front end" of the Cape so we could have the options of Port St. Joe as well as Eastpoint for fish markets (I recommend 13 Mile in Eastpoint as the best of the markets in the area). The Internet connection was strong enough that both of us could still work during the day when we needed to. The kitchen had the equipment we needed; we were glad we had brought a bunch of spices and condiments. If you don't want to drink wine out of a glass tumbler, bring your own wine glasses. We just used the tumblers but probably went through more wine than we would have otherwise. :-) We were also glad to have brought an HDMI cable so we could stream from our laptop to the TV. We appreciated the good bagless vacuum so we could keep the floor less gritty from our beach trips. Thanks for sharing your home with us and we look forward to coming back!
This was such an incredible stay!! Place is gorgeous and clean, feels very homey. Love the short quiet walk to the beach. We hope to be back very soon!
Our son and his wife invited us to join them during their vacation at another property close by. We found this house a little more than a month before our trip and booked it hoping that more of our family could join us. It ended up just being me, my husband, and our two dogs but we truly enjoyed all the space that we had. It was quiet and peaceful during our Monday-Friday stay. The beach is a short walk away with boardwalk access from the street. We enjoyed long daily walks and playing with our dogs. Although we did not use the neighborhood pool, it was very nice. This was our first visit to Cape San Blas but it will not be our last.
Very short walk to the beach. Clean, very well maintained house.
Was comfortable and clean. Convenient to the beach. A very nice homeowner whom was very mindful of my needs.
Angel Fish Cove - Wonderful get away!
Excellent Communication from Gene. Check-In was simple and smooth. Its just a very short walk to the pool and beach. The house was very clean and nicely decorated. This was a wonderful place to rent.
Annual family beach vacay!
Our family always looks forward to our beach vacation and this year it did not disappoint. Upon arrival to the house, we noted how clean the house was! Very comfy! Even though we would have like to have been further north on the cape, this location had its advantages. Number one being that it's much closer to Port St Joe so when we needed things from town we were able to go to piggly wiggly or dg instead of the trading post where prices were significantly higher. All in all it was a wonderful trip!
Perfect place to get away
Very nice house and walking distance to the beach. Really nice if you want to go to the beach without the hassle of the crowds. A true "get away".
Once again we had an entirely enjoyable stay at Angel Fish Cove on Cape San Blas! Communications with Gene were easy and we had no problem with check-in. The accommodations were great, as usual. The location was great as well. The pool and its being so close to the house was enjoyed by all. Our only regrets were that the Gulf waters might've been a little clearer… Pretty murky this time. But overall a relaxing & refreshing week. We'll soon begin planning our next vacation for Port Saint Joe!
This property is in a good location, very short walk to the beach and the bay is across the street. The pool is small but never mote then a few people in it at s time. Everything you can think of you will need is in the kitchen, and it's well furnished. By far the cleanest beach VRBO listing we have stayed in and the bed was so comfy. The Cape is so beautiful it will take your breath away. Very pet friendly home. Thanks for a lovely stay, we will be back.
We had a group of five, 4 adults and one child age of 7 and our dog with us. When we walked in the house we were amazed with how clean and gorgeous the house was! We were able to walk to the beach or pool in only a few minutes. The owners are wonderful and easy to work with, we hope to be back next year, Very peaceful relaxing place!
Nice and quiet weekend getaway.
Gene is an amazing property manager/owner. So easy to work with. He even kept us updated on local mask mandates before we left for our trip. The home was very clean. Short walk to the community pool and beach. Location was perfect.
Wonderful week on the Cape!
We had a very enjoyable week at Angel Fish Cove! Just left today and were sad to see the week end. Very roomy and comfortable house- Air conditioner worked wonderfully for this time of year. We had a couple of double red flag days and enjoyed using the community pool during this time. We've rented many places in the area and in Perdido Key and the owner of Angel Fish, Gene BeHage, was the absolute best at communicating with us- very impressed with him! Highly recommend this rental if you don't mind not being right on the beach (but not too far). We loved it!
Perfect house for a perfect vacation. We loved cape San blas and can't wait to come again next year! The unique deco made this house feel like home! Loved our welcome gift!!
We had a wonderful stay!! The place was beautiful, clean and on a quiet road. Gene and Linda were so quick to respond and made sure we felt welcomed in their home. Very highly recommend their place to anyone who wants rest, relaxation and to feel special.
The house was perfect for our family. Plenty of space with easy (longer than expected) walk to the beach access. Thank you for having us stay in your wonderful home.
My husband and children including our 2 year old grandson stayed a week in this lovely beach house. The owners are wonderful to work with and the house was so clean and roomy. The beach is just a short walk up the street and over a boardwalk The Cape is as beautiful as always. . We really enjoyed the pool as well! I would highly recommend this house for a relaxing and fun vacation.
We were very satisfied with this property. It was clean and well stocked. The property owner was very nice and extremely helpful to us throughout the whole process.
In many ways Angel's Fish Cove is a typical rental, BUT, what sets it apart is how well it's stocked. Soft toilet paper with extra rolls under the sink, paper towels, napkins, coffee, a working grill... It's a quiet neighborhood, a short walk to the beach, the bike path is across the street and it's walking distance to a good restaurant, Salinas Park and the new boardwalk to view the bay. The beach has shallow water (about 3 feet deep for at least 10 yards), which makes it great for kids to swim in. Dog folks: bring a flashlight because it's a dark neighborhood, which makes it perfect to sit out on the deck and star gaze. All in all, it's a very comfortable, homey feeling rental.
This is our second time here. And we absolutely love it. I think we have found our annual vacation spot. ??
Cape San Blas fall get away!
We had a nice stay for Fall 2019! Plenty of room for our family and well equipped property. Always enjoy the cape and the weather was perfect. Thank you for a nice stay.
Our family had a great time at Angel Fish Cove. We are thinking of going again next year.
Labor Day extended weekend
We had a great vacay?Weather ,Angel Fish Cove and the beach were just what we needed for a short get away! It was so nice to come back to the community to support them... we ate out every night!
Great location close to the Gulf!
We really enjoyed our stay at Angel Fish Cove. It's just a short walk to the Gulf using the neighborhood boardwalk. Gene is super friendly and provides a clean rental home on beautiful Cape San Blas.
Our vacation was great because of this property and the ease of the process. The place was very clean and the owner was very helpful and easy to reach with any problems or questions. The entire family was able to relax at the house, pool or beach. Thanks for everything and we will be back!
We thoroughly enjoyed our stay. Gene, the owner, was extremely helpful.
Our Family Beach Vacation at Angel Fish Cove
Our family thoroughly enjoyed our vacation stay at Angel Fish Cove! What a quiet, peaceful place to relax and enjoy being together. The house is beautiful and well equipped with everything that we needed. It is just a short walk to the pool and the beach, and we also enjoyed a couple of days at St. Joseph State Park. The shell nightlight that Gene had waiting for us will always remind us of this trip and was so sweet! We hope to go back again next year! Kenny and Sue Spencer McCalla, AL P.S. The star gazing is AMAZING!!
Great 1st beach trip for our son!
My family, my husbands family, and my 11 month old son had a fantastic time. The house was perfect for our needs. Thank you for allowing us to use your home.
Nice clean house, close to beach and community pool. Gene is very helpful and quick to respond. Quiet neighborhood and dog friendly. The beds are very comfortable!
Our family enjoyed the home for the week! Just a short walk to pool and beach. Loved the surrounding area. Next time I think I will invest in a permit to drive out vehicle onto the beach. Even though it's not that far it's hard to carry everything there and back for a family. Nice quiet neighborhood area.
Gene is great to work with. He was always available to offer help or advice on points of interest in the Cape area. We absolutely loved that this home is pet friendly and is a very short walk to the pool or beach. This home also features an outdoor shower with hot and cold water which was heavenly!
The set up is ideal with a pool, boardwalk and the access to gulf waters.
We had a wonderful time and the owners are very nice and easy to work with! Great experience! We will definitely return!
Beautiful house nicely decorated, love the Angel fish made out of shells.
Even in the midst of a hurricane, the community there is incredible. I love that neighbors actually stopped to talk and chat and I felt truly safe. Sitting on the balcony at night drinking hot tea and listening to the waves crashing was such a welcomed distraction from hurricane relief work during the day. The stars are so bright and beautiful, I could have stayed outside for hours ! The inside is very comfortable and the master bed mattress is very very comfortable. Thank you for everything
Wonderful house, great location
We had to evacuate for hurricane Michael but hope to return. The owners are lovely, we love the neighborhood, and the house is very comfortable and clean.
We loved our stay at Angel Fish Cove. The house was perfect for the four of us. It was well furnished and equipped. We enjoyed coffee on the deck in the mornings and drinks there in the evenings. The pool and the beach were a short walk away. We will be back next year.
My kids and I had a wonderful time. As soon as we got home. My son says, same time next year?!?! We will be back. Awesome house!! Perfect location!!
Location location location
This home is well kept and is in the perfect location. It has pool access , beach access and is close to the place we rent boats for scalloping. We have stayed here before and will stay again . Gene is always easy to deal with and very attentive to our needs. Restaurants are close by and Angle Fish Cove provides a grill if you want to just hang around the house. The property offers it all and at a very fair price. We will see you next year Gene.
The property was spotless. Beds were wonderful. Pool was great. Loved the proximity to the beaches. Would stay there again.
Perfect, perfect, perfect!
First of all, Gene was the most accommodating host I have ever had. Even before we were completely booked, he rescheduled to a different week for us as we had some schedule conflicts at home. He remained in continuous contact, and was very kind. We arrived at the house and were very impressed with the way the home was decorated, furnished, and well kept. Gene and Linda kept the house as their "home," no junky couches or mattresses. The kitchen has everything you need to cook EVERYTHING. They even give you a full bottle of dish soap, sponge and a dishwasher pod. Bring dishwasher soap if you plan to use it more than once. Linens and beach towels were a plenty. Covered parking for up to two cars, easily enough parking for five cars. A beautiful deck with a nice table and umbrella. They have dip nets, a wagon, beach chairs, an awesome umbrella, kids toys, a THROW NET!, a couple of coolers for your crab catches and more. It takes 5 minutes to walk to the pool, and 5 minutes further down the same boardwalk, you'll have feet in the gulf. Beautiful beaches and dunes, and characteristic to the cape, very uncrowded. My 6 year old and I caught 14 blue crabs in one hour one night and brought them home for a lovely meal, and my wife was so surprised. Caught Redfish, catfish, and blacktip shark between the beach and some other areas in port saint joe. Rented a pontoon and spent a day in the bay. This home is perfectly located for adventures and restaurants on the cape as well as Indian Pass. I have absolutely nothing bad to say about Angel Fish Cove, will be booking again!
Great choice for a family beach vacation!!
First off, we loved Cape San Blas and the surrounding area. This is truly a beach vacation spot in that there is little else but the beach here, which was exactly what we were after. Its very chill and quiet. The teal water was beautiful and and there were some waves for the kids to play in and plenty of shells to collect. If you get burned or need a break from all the sun, Port St.Joe is a charming little neighboring town with a historic main street offering many restaurants, cool antique stores and even an art gallery we were lucky enough to take a free workshop in!!! Appalachicola is awesome!! Its also a smaller town close by rich in history, local attractions (museums and fantastic eateries, esp. The chocolate/coffee shop and Up The Creek restaurant). There are also many lovely historic homes in the neighborhood to admire. Angel Fish provided a very fun and comfortable stay with cute, beach-y furnishings and wi-fi. The kitchen was much more accommodating than I anticipated (I just wish there was a mixing bowl). There are plenty of utensils, spices, etc. The beds were very comfortable and again, all the linens were plentiful and very nice. I appreciated the washer and dryer since we have a very large family and avoiding laundry is impossible, even on vacay. We received a cool welcoming gift and the owner was very responsive and helpful with any questions we had throughout our stay. Very happy with our relaxing beach time here and hoping for a repeat next year!!
We very much enjoyed our stay. We really liked the home and the location - easy access to the beach and a pool. We would stay here again.
Beautiful house in a beautiful location. Easy walk to quiet beach and well kept pool. We will definitely vacation here again!
My wife and I have spent the last three winters in Angel Fish Cove. It is our home-away-from-home. We obviously love it. It is a short walk from the house to the beach. There is a heated community pool that is a great place to hang out any day, but particularly when it is a little cooler and windier on the beach. The neighborhood is quiet, and it is an easy drive into Port St. Joe and Apalachicola. Both the full time residents and renters are friendly and welcoming. A wraparound deck on the second floor with an umbrella table is a delightful place to have any meal of the day, morning coffee or evening cocktails. And speaking of meals, if you like fresh seafood, there are a number of places where you can buy great fish and shrimp, a real treat for us northerners! With the master bedroom upstairs and two bedrooms downstairs, the layout makes for a comfortable place to have guests while maintaining personal privacy. Gene and Linda, owners of the house, are wonderful hosts and very accommodating.
We spent spring break week w 3 adults and two teenagers in the property. 3min Walk to the beach, great beach quality and very few people even during spring break. Great deck, open floor plan and master bedroom upstairs worked very well for us. Dog friendly community. Owner very friendly and responsive.
Impossible not to fall in love!
We decided to spend the end of the year holidays away from home, so we booked Angel Fish Cove to be our home away from home for few days. What a great experience! this house has everything to make you feel at home!. and Linda and Gene are just great I didn't want to leave! We will definitely be back.
The house and community was as described and in good condition. My family and dogs enjoyed our visit.
It was quiet and peaceful. The house is clean and well furnished and very close to the beach. We had a good time. Thanks to the hosts.
Our family really enjoyed our stay at Angel Fish Cove! It's a perfect vacation home for us, an d we were delighted that we were able to bring our dog with us as well. The house was very clean, and furnished well. The kitchen was fully stocked, which made it much more comfortable to stay in and cook for each meal! We only made one trip to eat lunch in Port St. Joe, out of our five day trip. The beach is just a short walk down the Boardwalk, and the wagon provided by the homeowners made it super easy to get all of our stuff from the house to the beach each day. The pool was also very nice! Our 3 year old son loved the pool, so we spent a lot of time there. Unfortunately, Hurricane Irma had just devastated many parts of Florida the same week that we planned our trip, but luckily, Cape San Blas was mostly unaffected. So, that being said, there weren't many people on the beach while we were there. It felt like we had our own private get-away! We'll definitely stay in this home again.
We really enjoyed our family's stay at Angel Fish Cove. Considering that we just missed the devastation of hurricane Irma, which recently swept through the nearby area, we picked a great weekend to stay in Cape San Blas. The beach was nearly deserted and we felt like we were on our own private island at times! The description of the house was just as described. It was fully stocked with everything that we could have needed for the week. We brought so much stuff with us that ended up being available at the home, that we'll know to pack lighter next time we visit this house. The home was very clean, quite roomy, and very comfortable. The house is walking distance to the beach, and it was super close to the pool, which was very clean and relaxing. Our 3 year old son loved the pool and rode in the wagon, provided by the home owners, to the pool each day. It was one of the highlights of his day! It is also pet friendly, which was great! The homeowners are very responsive and stay in touch with you when needed. That helped make the trip amazing. My husband and I agree that this house is perfect for our family and we will definitely return to Angel Fish Cove!
The property was clean and nice. We love that they keep up with the yard!
The house was great! We unfortunately went down during some bad weather but the homeowners were so accommodating and helpful with information. We will definitely be back! We have stayed in a lot of great places from the cape to Indian Pass but you can't beat renting from great owners!
Perfect for 3 couples, or a family
Loved it! Very comfortable beds, roomy, anything you could need here. And great location on the Cape!
Relax and recharge in a quiet getaway
Angel Fish Cove is a wonderful and quiet place to get away from it all. The walk to the beach is easy and the Sand Bucket is close by too. I will definitely be staying here again on my next trip down.
We absolutely loved this beautiful home! It was very comfortable for our group along with our dogs. The beach was perfect and the pool was great after spending a day out on the beach. I would definitely recommend this house to anyone!
The house was perfect for our extended family of 8! Everybody was comfortable and happy with the place. It was clean and had everything we needed. The location is great! It's just a few minutes by foot to the pool and the beach and about a 20-minute drive to Piggly Wiggly and downtown Port St. Joe. The owners were accommodating and helpful. We loved our welcome gift! We would stay again.
Nice property. If you need anything the owner will gladly assist. I would suggest you bring a kitchen sponge as the one provided is tiny. Would definitely stay again
A great place for families! We've been going to San Blas for years and while not on the beach, Angel Fish is a short walk, very clean and reasonably priced! We will be back!
Wonderful family vacation
We took our kids and grand-kids here for our 2017 family vacation. Everyone agreed this was the best family vacation yet. The home was lovely and perfectly situated for an easy walk to the beach or pool. Very private - often we were the only ones at the pool. I recommend this home to anyone looking for a beautiful, relaxing place to stay.
Clean, spacious dog friendly beach house!
We thoroughly enjoyed Angel Fish Cove. The house is super clean and well spaced. My husband and I loved the master and bath upstairs and our daughter loved the twin beds downstairs. We used the extra bedroom for our closet and our dogs loved the cool tile floor! Outside in the carport is a washer and dryer and beach toys and chairs for use. There is an outside shower which is handy to wash off from the beach and to wash off our dogs. We love this beach and it's a quick walk to the boardwalk onto the beach. I would highly recommend Angel Fish Cove!! We would love to come back!
My family and I had a very relaxing time and enjoyed our vacation very much at the Angel Fish. My favorite part of staying at the Angel Fish was the pet friendliness. We are in the process of training our puppy to be a therapy dog and this vacation spot was perfect! The house was super easy to have a pet in, the neighborhood was full of friendly people of all ages for my puppy to interact with, and the along with the beach was extremely pet friendly and an easy walk. The pool was also great! FYI, I loved that the restrooms were at the pool, which made it easier to walk to and from the beach versus going back to the house! I was also pleasantly surprised with the extra refrigerator (even though we didn't use it) in the laundry area. Next time I will make plans to use it! The beach chairs and cart made our beach exprience so much easier! The closet in the hallway area held a nice supply of books, of which I read two, and games as well. The bedroom downstairs also had games. My teens enjoyed playing with the sand castle toys on the beach (I would not have thought to bring them for teens:). I am so glad you had them there. Another thing I really enjoyed was the comforter on the master bed. It was so cozy and the perfect weight! Safety; I felt completely safe walking my puppy early in the morning as well as late at night. I can't say that for everywhere I've ever vacationed. This was one of the most relaxing vacations I've ever been on. The only thing I would suggest is some more stainless steel cookware, maybe 2 six inch round cake pans, and a mixer. But then that's just a personal preference and I know everyone isn't into cooking on vacation as I am. If you have mobility issues, you do need to know that this is a beach house, therefore, steps are part of the deal. Not a problem for us, but I could see how it could be for others. Also, the mosquitoes don't play around! They are serious about biting every chance they get! Make sure you pack something to repel them and keep them off of you and your pet! One more thing, the internet and cable worked wonderfully and we had no connection problems. We also have Verizon cell phone service and had no problems with it. We brought our own Kayaks. There was a perfect spot for them in the parking area under the house. We only left one day and went to eat in Port Saint Joe and grocery shop at the Piggly Wiggly. Other than that, we stayed the entire time. It was great! We will definitely be back!
My family had a wonderful relaxing time at your beautiful home. It was so comfortable and very well appointed. The kitchen was great and had everything we needed. We loved the beach and quite often we were the only people there. We had fun gathering shells and playing in the pool. Thank you for sharing your home for our paradise in the sun. We loved it and plan to return soon.
Quiet, clean, and convenient location
We really enjoyed our stay this weekend. This home was very clean and conveniently located to Apalachicola and Port St. Joe. The pool was nice and the beach was not a bad walk either. Thanks for a lovely weekend!
We were "tickled pink" with the house. Everything was nicely decorated and orderly. The beds were very comfy as was the furniture. Be sure to bring your own blow dryer along with extra trash bags, dishwashing soap, laundry detergent, and toilet paper if you are staying several days. We loved the table which displayed the shells along with their names. The walk to the beach isn't far for adults but is a bit of a trek with small children. We found it easier to get to the beach by turning right and going through the pool area rather than turning left and up the stairs. Our grandchildren enjoyed the pool as much as they did going to the beach. We were glad to have the use of the cart and other items available in the laundry room. We also appreciate the lovely welcome gift that was left for us. I would love to return next year.
We rented out the house for 5 days for my family and loved it. It isn't on the beach but very close with the boardwalk and it was nice to have pool access as well. The beach was beautiful and not busy at all. We have young kids and they loved it! The beach is shallow for a little bit so they were able to get in and play and we didn't have to worry about them. House was very nice as well! It was also right across the street from the kayak and bike rental place which was very handy. We had a great time and I highly recommend this house!
Last year the home we stayed in was nice but the beds were VERY uncomfortable and the a/c kept freezing up. Not this home! The beds and pillows were beyond comfortable and of course the a/c worked well. This home was just a short walk to the beach/pool and another big plus was it had anything you or the kids would need for the beach! We were very impressed with this home and will be booking it again if it's available.
Did not want to go home!!!!!
We loved our week long stay at Angel Fish! It is a beautiful home that is located close to the pool and beach. We will return soon! This was our first visit to Cape San Blas and we loved it! We did some snorkeling and even ride horses on the beach!
Angel fish cove was incredible. Very roomy, beautiful, clean, comfy for 8 people. The pool and beach were a short walk away and it was beautiful. We just had the best time. Gene was very responsive to my questions. I highly recommend staying here. Will stay here again for sure.
Angel Fish Cove provides a wonderful getaway on Cape San Blas. The house is comfortable and well appointed. Gene, our host, made sure everything was in good shape, clean and ensured we wanted for nothing. My wife and I have stayed at a number of different places on the Cape and we found Angel Fish to have the most comfortable beds and living area. It has a great deck where we enjoyed morning coffee and evening cocktails. The neighborhood is quiet and provides the amenity of a large swimming pool and pool deck area. A perfect spot to sit when it is a little too cold or windy to go down to the beach, which is only a short walk away. (Don't miss the stars at night. You only have to walk to the boardwalk to get a great view.) We also love the south end of the Cape with its big beach, calmer winds and good shelling opportunities. We liked Angel Fish Cove so much, we hope to make it our winter home in the future.
We had such a wonderful time even for a short weekend trip. The house was beautiful, clean and very close to the beach and pool. Also we loved the neighborhood as well. Everyone was so nice. And Gene really made sure we were taken care of. We will absolutely stat here from now on when we visit the area. Awesome house and all the beds were comfortable which you don't always get. :)We loved it! THanks Gene for making it great!
Better than I ever imagined
My family, along with our Labradoodle, chose Angel Fish Cove as our vacation spot and we couldn't have made a better choice. The house was wonderful. The community pool was great and the beach was spectacular. The area was just what me and my family needed to spend quality time together. We explored and found the City of Port St Joe which is only about 20 minutes away.....which has great seafood restaurants and shopping. We can't wait to return to Angel Fish Cove and we will be bringing our dog back as well.
We loved the house with plenty of room. Wonderful way for our family to spend time together. Looking forward to next year.
Very enjoyable and quiet vacation
This is an excellent vacation rental. The house is very clean and has all the amenities you could ask for and is very nicely appointed for a rental house. The handmade gift was nice and a thoughtful touch. The area is very peaceful and the beach is beautiful and dog friendly. The bay is close by and we kayaked and snorkeled for scallops almost every day - delicious! On clear nights I have only seen stars like this in the mountains. Virtually zero light pollution and you can see the Milky Way so clearly. Somehow we managed to "misplace" the house keys on the beach within hours of arriving and Gene quickly had an extra set for us. If you are an outdoor enthusiast and like adventurous days, or just want to chill on the beach followed by peaceful relaxing evenings you will not be disappointed. Our dog had a blast on the beach and in the surf and also gives it two paws up:) I highly recommend this rental. Thanks Gene and Linda!
The house was very clean with really nice quality furniture. Very short walk to the beach which was also very nice and not crowded at all. Great place to stay and we will hopefully return next year.
Better Than You Would Expect
Everything about this property and the area are better than we expected. I don't think we've ever had a vacation where that was really true! From the nicer furniture to the well-equipped kitchen, the very clean home has a non-rental feel to it. Super low number of bugs for a Florida home as well. We had issues with the wi-fi our first night and after a quick email via the network, the owner sent several self-fixes followed by an offer to have a computer guy or Mediacom come out. Thankfully, the issue was resolved simply and quickly without hassle - again, a first for any vacation we've ever taken. The neighborhood is safe, all other patrons were decent and there were no obnoxious parties or other hassles. Pretty amazing stuff all the way around! If quiet, open beaches and well-kept neighborhoods are your intent, try a stay here. You simply won't regret it.
Perfect place to stay! This was our first visit to Cape San Blas and we will be back. The house was perfect for us. My two dogs loved it as well. Clean, neat, quite and wonderful location are just a few words to describe this house. Can't wait to come back!
Lovely Home with excellent access to Beach
We visited this home with our children and grandchildren and it was perfect in size and amenities. Clean and comfortable, beautiful,well established neighborhood, no loud party animals to keep you from your cherished vacation sleep. Having the beach plus the pool so close by keep everyone happy. plenty of pool toys/ beach chairs to use. I would recommend you take paper products plus garbage bags when you buy for your stay. The gift the owners left was very thoughtful! Thank you.
This was our first visit this area. Angel Fish Cove exceeded our expectations. The furnishings are very comfortable, the kitchen was the best stocked I've encountered (we've rented 10+ vacation homes over the years) and the home was very clean. The Cape San Blas area is very quite and beautiful with lots of trees and sand dunes. We all enjoyed the pool and most times had it all to our selves. This is a great home and will definitely visit again!
Our first time to Cape San Blas and we loved it! Brought our four boys to fish for the week and had a blast. The house was perfect for us. Very comfortable, open - cathedral ceiling for family room helping us not feel overcrowded when all 6 of us where eating dinner/watching tv. Needed extra sheets for pull out and reached out to Gene and Linda who had them at our front door waiting for us before days end. The beds were super comfortable, bathrooms very clean, and kitchen spacious and well equipped. Loved the neighborhood the house was in too. Easy access to beach, pool and other amenities. We look forward to coming back soon.
The house was awesome for our weekly stay. Everything was provided for our stay. The location was great for our pool and beach activities. The men in our party fished everyday whether it was at the beach or a short drive down the road! Will definitely com back to stay.
A very nice comfortable home in the Boardwalk with good friends all around. Such a nice place for our dog and the beach is great for walking and for the dog. Gene and Linda are close by and always helpful for any needs.
---
Have a question? Customer Questions & Answers
Want to know specifics? Ask anything about this specific property that you would like to know...
Example: "Is the balcony screened in?" or "Is there a toaster oven?"
---
---