When it comes to enjoying the pristine beaches and outdoor adventures of Florida's Gulf Coast, having the right equipment can make all the difference. Equipment rentals in Mexico Beach, Port Saint Joe, Cape San Blas, and Indian Pass are your go-to solutions for a memorable beach experience. In this blog, we'll delve into some of the most popular types of equipment rentals available in these scenic destinations.
We have proudly partnered with VayK Gear to enhance your vacation. Through this collaboration, we aim to make your stay as convenient and enjoyable as possible. VayK Gear offers a range of daily, weekly, and even monthly gear rental options to cater to your needs. What sets this partnership apart is the flexibility it provides. Whether you wish to rent equipment for the duration of your stay or just for specific days, VayK Gear accommodates your preferences. For example, you might want to explore the coastal town on bikes for the entirety of your visit but decide to try paddleboarding for just a day. No problem! VayK Gear will deliver the gear precisely when you need it and collect it when you're done. This flexibility ensures that you can maximize your Gulf Coast experience and only pay for the equipment you use, earning a rental credit that adds to the convenience and affordability of your vacation.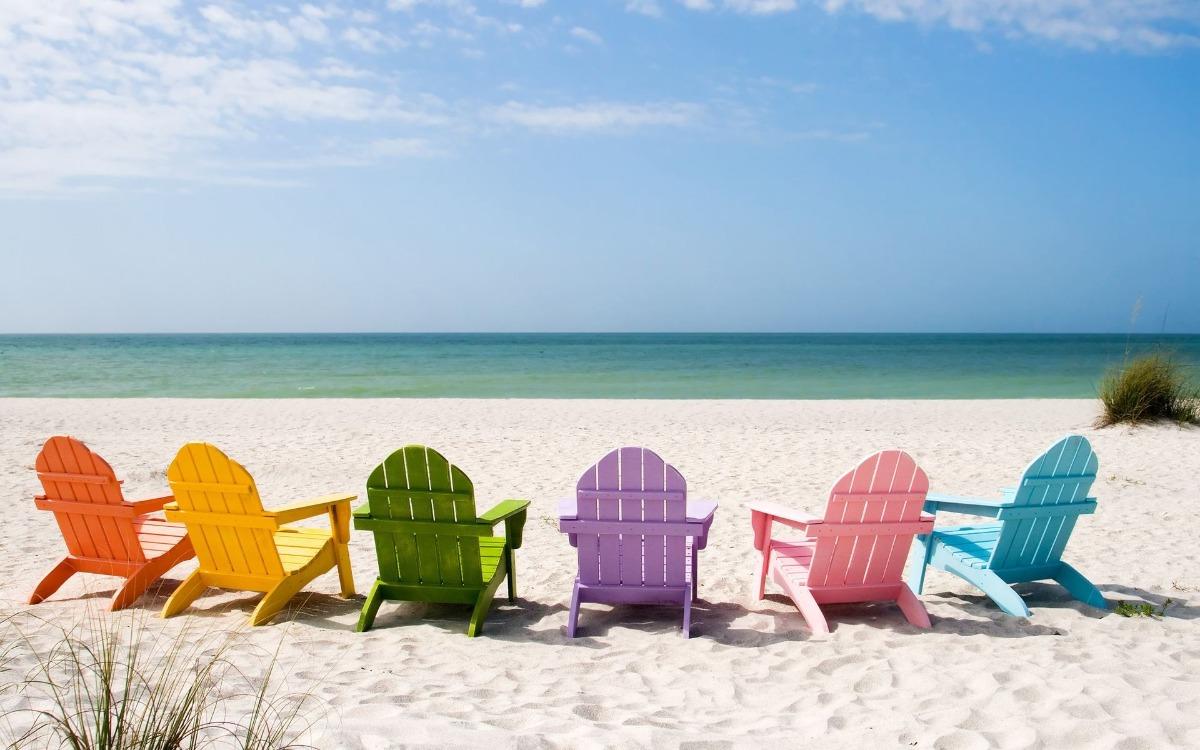 Bike Rentals
Bike rentals offer a unique and delightful way to explore the scenic beauty of these coastal destinations. From pedaling along the pristine shorelines to winding your way through charming towns, renting a bicycle opens up a world of adventure and discovery. These Gulf Coast communities are well-suited for cycling, with picturesque routes that allow you to soak in the laid-back atmosphere, the salty sea breeze, and the vibrant local culture. It's not just about moving from point A to B; it's about immersing yourself in the essence of these seaside communities, relishing the journey, and forging connections with the heart of the Gulf Coast. So, hop on a bike, and let the Gulf Coast's beauty unfold before you at your own pace, ensuring a memorable and authentic coastal experience.
Beach Equipment Rentals
When you arrive at the beautiful Gulf Coast beaches, you'll want a comfortable and hassle-free experience. Beach setup rentals provide the perfect solution. You can rent items such as beach chairs, umbrellas, coolers, and beach carts. These rentals are not only convenient but also ensure that you can relax in style and shade while enjoying the sun and surf.
Barefoot Rentals offers a variety of beach equipment rentals, including beach chairs, umbrellas, coolers, and beach carts. They are well-known for their high-quality equipment and excellent customer service. Delivery is offered to your beach location or your vacation rental! Pick-up is included so you can enjoy your time on the beach without the hassle of packing up. Delivery service is free!
Sand Flea Beach Service is a local, family-owned business that specializes in beach equipment rentals. They offer a range of items to enhance your beach experience, including chairs, umbrellas, and more. Sand Flea Beach Services is known for its friendly staff and convenient pickup and delivery services. Delivery is available within a 30-minute radius of 4372 Cape San Blas Rd, Port St. Joe, FL 32456.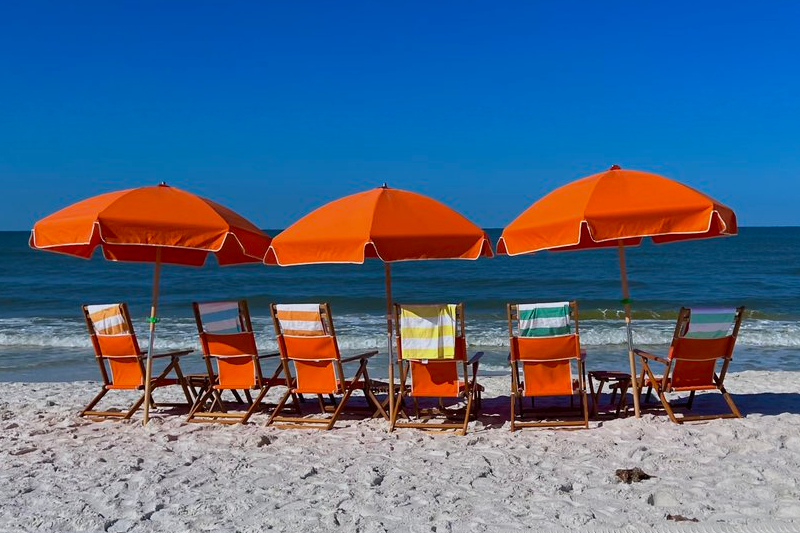 Coastal Concierge is a one-stop shop for watersports and beach rentals. They provide beach chairs, umbrellas, and other beach accessories to ensure your day at the beach is comfortable and enjoyable. Coastal Concierge serves the coastal area of northwest Florida known as the "Forgotten Coast" - specifically Mexico Beach, St. Joe Beach, Windmark Beach, Port St. Joe, Cape San Blas, and Indian Pass.
Remember to book your equipment rentals in advance, especially during peak vacation seasons, to secure your preferred gear and enjoy a stress-free beach experience. With the right equipment at your disposal, you can make the most of your visit to these stunning Gulf Coast destinations and create lasting memories of your time in this coastal paradise.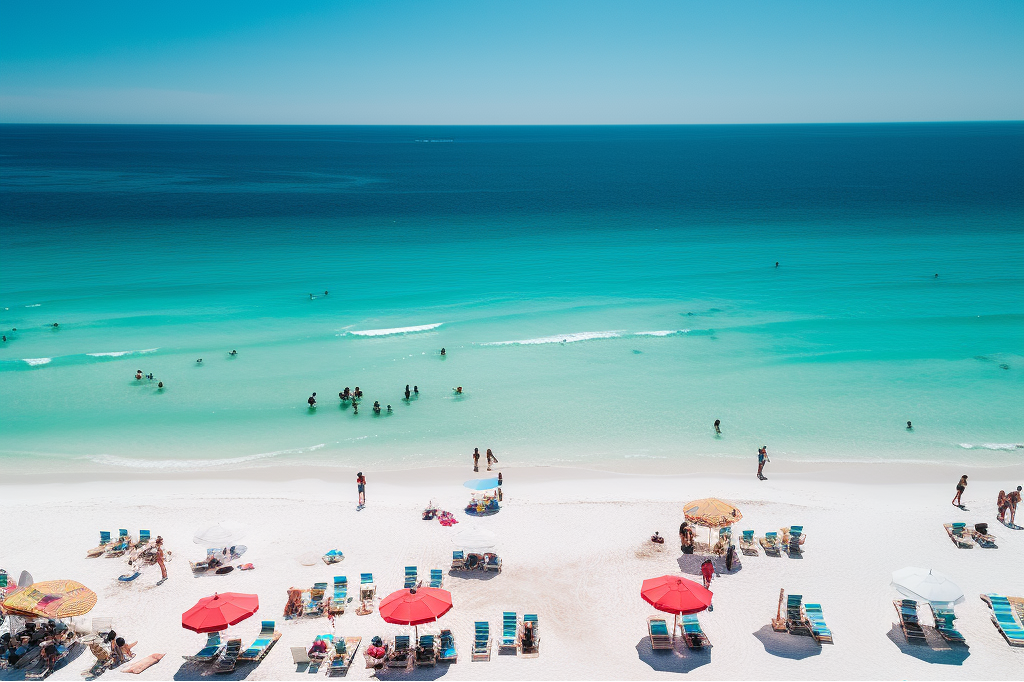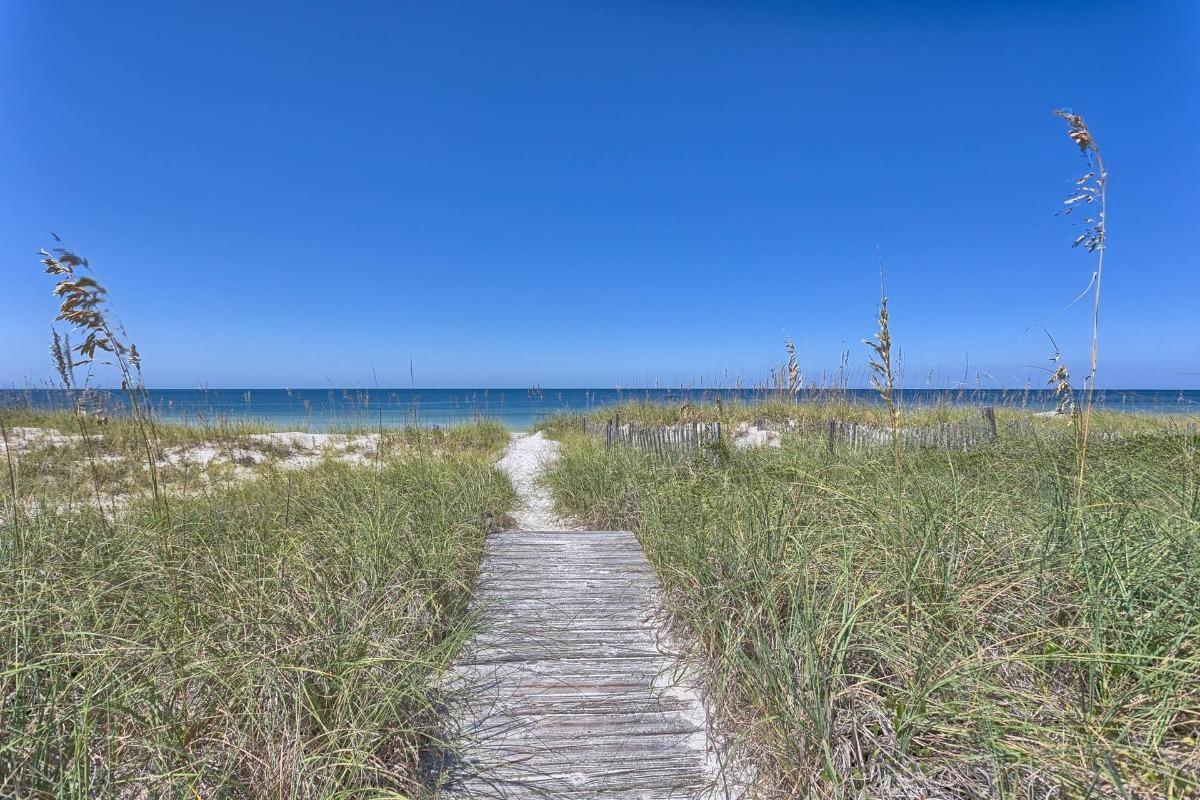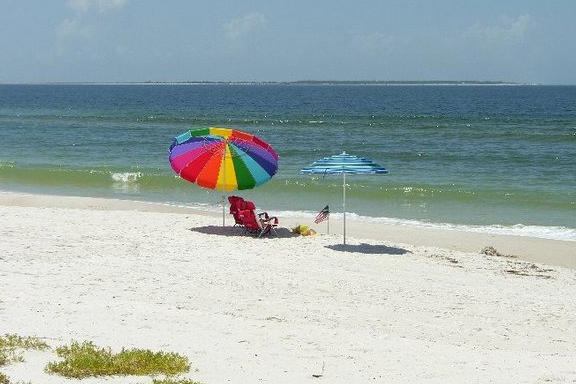 Stand Up Paddleboard and Kayaking Rentals
Stand-up paddleboarding (SUP) offers a serene and captivating way to explore the stunning coastal landscapes. The tranquil waters of the Gulf create an ideal setting for SUP enthusiasts of all levels. Paddlers can peacefully glide across the crystal-clear bays, meander through winding estuaries, and even venture into mangrove forests, all while absorbing the natural beauty of the surroundings. In addition to stand-up paddleboarding (SUP), kayaking is another popular water activity. These coastal communities offer a perfect combination of tranquility and adventure for both kayakers and SUP enthusiasts. With the gentle lapping of water and a view of the expansive coastline, SUP in these Gulf Coast destinations is more than an activity; it's a sensory journey that allows you to connect with nature in a uniquely peaceful way.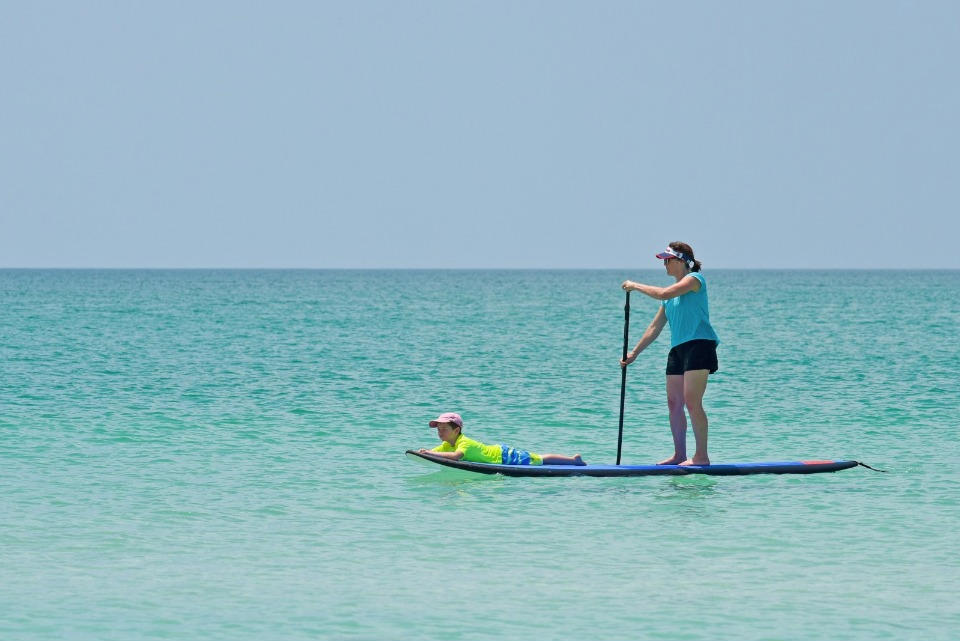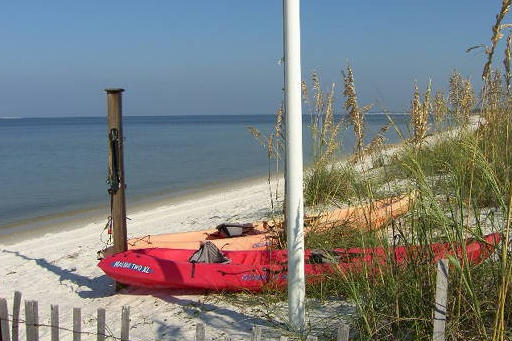 Golf Cart Rentals
Exploring these charming coastal towns is made even more delightful with the convenience of golf cart rentals. These compact vehicles offer a fun and efficient way to traverse the picturesque streets, beaches, and local attractions of these Gulf Coast destinations. Golf carts provide a relaxed and eco-friendly mode of transportation, allowing you to soak in the beauty of the coastal landscapes at your own pace. With golf cart rentals readily available, visitors can effortlessly access the area's shops, restaurants, and scenic viewpoints without the need for a car. Whether you're cruising to the beach, heading to the local seafood joint, or simply enjoying a leisurely ride along the coast, these electric chariots offer a unique and laid-back perspective of these vibrant beach communities. Golf cart rentals not only enhance the ease of getting around but also add a touch of fun and novelty to your coastal adventure, making for a memorable and enjoyable experience.

St. John Patio offers year-round golf cart rental for your vacation enjoyment. Their carts are permitted and beach-ready. Delivery is available to Cape San Blas, Indian Pass, Wind Mark, Port St Joe, and Mexico Beach. They have new 2023 Yamaha gas-powered carts that seat up to 4 persons.
Laid Back Cars, Carts, and Rentals rent street-legal golf carts in Mexico Beach and St. Joe Beach. Six-seater and four-seater golf carts are available for rent by the day or the week.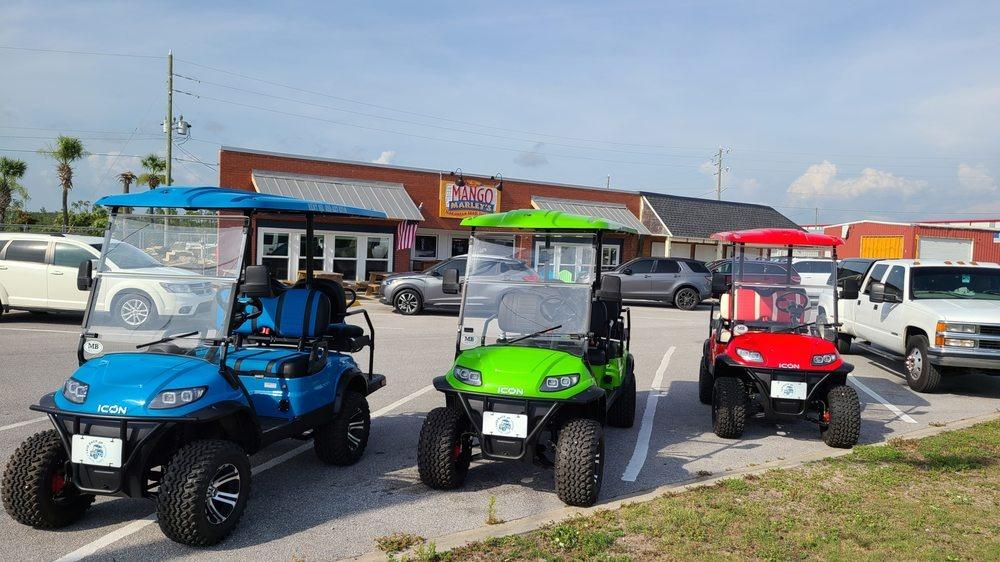 Boat Rentals
Renting a boat is an invitation to explore the open water and create unforgettable memories on the waves. With boat rentals, you don't need to be a seasoned sailor to experience the pleasures of life on the water. The experience of boat rentals extends far beyond navigation; it offers the promise of adventure, relaxation, and the chance to connect with nature, all while creating lasting memories with family and friends.

Bayou Boat Rentals offers various-sized pontoon boats as well as Carolina Skiffs. Bayou Boat Rentals is your go-to destination for an unforgettable maritime adventure in Port St Joe.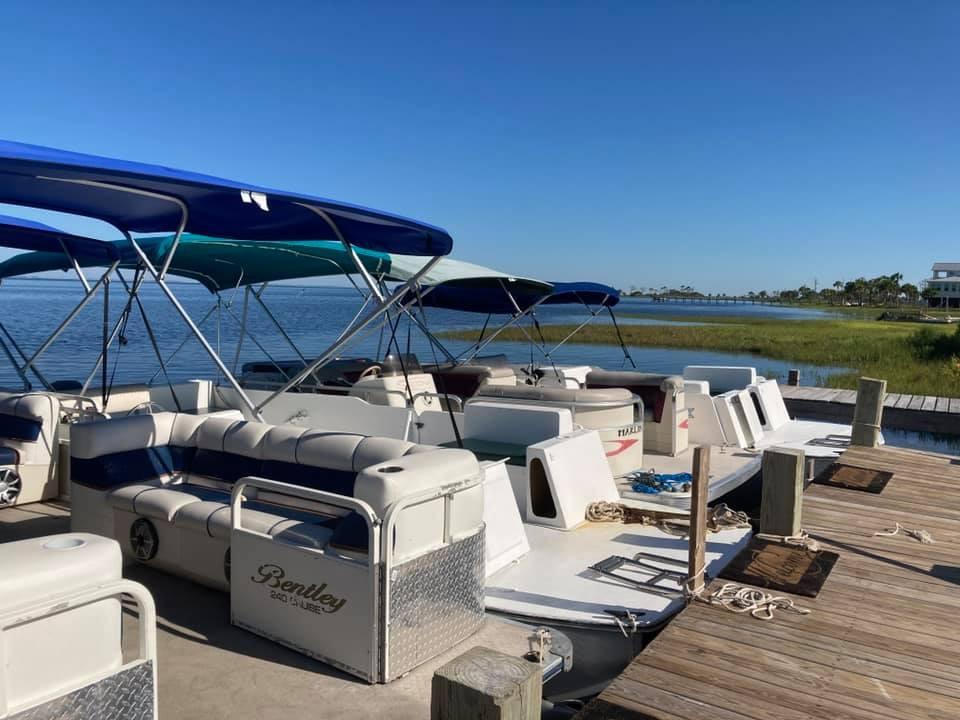 Vacation with Pristine Properties and Save Money
In the heart of the Gulf Coast, the towns of Mexico Beach, Port Saint Joe, Cape San Blas, and Indian Pass offer a serene escape from the bustle of everyday life. And when you choose to vacation with Pristine Properties, you're not just selecting a place to stay – you're opting for a meticulously crafted experience. We collaborate with VayK Gear to offer a comprehensive range of rental options, ensuring that your time here is filled with adventure and relaxation. This exciting program rewards you with beach gear credit that you can use to rent popular, high-quality beach gear items such as bikes, chairs, umbrellas, kayaks, paddle boards, cornhole, beach carts, skim and boogie boards, and more. You can handpick the items you desire at least 48 hours before your scheduled check-in date. The flexibility in rental durations allows you to customize your experience, making sure you pay only for what you use.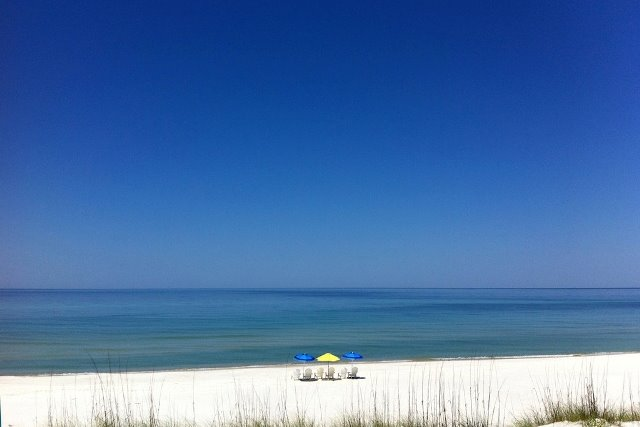 With such a diverse array of vacation rentals and a commitment to service excellence, we invite you to relax and rejuvenate along the Gulf Coast. Each moment is an opportunity to forge lasting memories amidst the breathtaking landscapes and laid-back charm of these coastal towns. So, choose to stay with us and discover the magic of the Gulf Coast at your own pace and in your unique way.