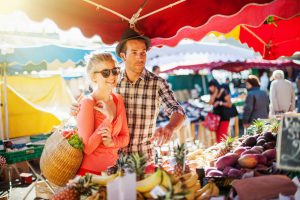 The Florida Gulf Coast offers a wide arrangement of activities for everyone in the family. From walking the beautiful white sand beaches to exploring the depths of the glimmering waters on a snorkeling adventure, there is no shortage of activities and attractions to enjoy. However, when it is time to take a break from the sand and water,
Pristine Properties
recommends finding excitement at the
Salt Air Farmers Market
in
Port St. Joe
.
The Salt Air Farmers Market isn't your average market; it's an encapsulation of some of the best parts of Port St. Joe. Are you intrigued? Continue reading for a preview of what you can expect when visiting the Salt Air Farmers Market.
Fresh Fun at the Salt Air Farmers Market
Open every first and third Saturday from February to December from 9 a.m. to 1 p.m., Salt Air Farmers Market can turn your weekend outing in Port St. Joe into an adventure. The market's wide variety of offerings makes it an attractive destination for patrons of all ages and interests, making it ideal for families.
Come to the market hungry; you'll find tons of different vendors offering fresh produce, delicious Gulf seafood, and tasty baked goods. If you're lucky, you may even catch Boyd's Farm Fresh beef for local "meatups."
Salt Air Farmers Market is also an excellent spot for souvenir shopping; local merchants offer various treasures, including jewelry, pottery, artwork, soap, and more. While you shop, stop and enjoy some live entertainment! The market frequently features live music from local bands and musicians, bringing some added energy and excitement. From fresh food and handcrafted products to live music, there's truly something for everyone at Salt Air Farmers Market.
If you've brought your dog on your vacation to the Florida Gulf Coast, be sure to bring them to the market! Salt Air Farmers Market is pet-friendly and a great place for your pup to get some exercise and socialization.
One of the best things about the Salt Air Farmers Market is you never know exactly what you'll find. Vendors come and go throughout the year, making way for a new set of enticing products and treats. The constant change inspires visitors to return time and time again.
Accommodations on the Florida Gulf Coast
After enjoying Salt Air Farmers Market's variety of goods, food, and fun, you can take your items back to your Port St. Joe vacation rental from Pristine Properties and whip up one of the freshest meals the coast has to offer. Our vacation rentals are the perfect home base for exploring the charming communities on the Florida Gulf Coast.
Book your stay at one of our rentals on the Florida Gulf Coast with us online today!